On the second day of the Jamboree, the Mayor of Athens
proclaimed its opening to the whole world. He did so as part
of another ceremony harking back to the Golden Age of Greece.
In 490 b.C., after the great battle of Marathon, an Athenian
foot-soldier, Phidippides, ran to the city to announce the victory.
It is said that after gasping out "Nenikikamen" -we have won-
he fell dead. It was to symbolize his run that, when the Olympic Games
revived in Athens in 1896, the Marathon Race came into the being.
87 campers -one from each participating country- carried the
message from Marathon to Athens at turns and handed it
to the Mayor that read it to the city and the World.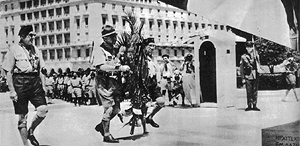 A wreath is laid on the Tomb of the Unknown Soldier.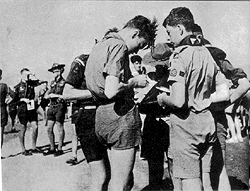 Address exchanges were common sights since the first day

Successful participation in the Wide Game
as recorded as it qualified toward the Daphne Award

On Sea Scouts Day there was a regatta,
and much ... splashing about in the water.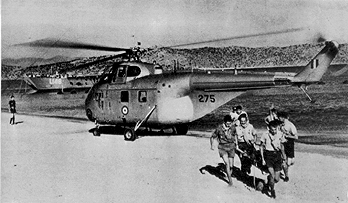 On Air Scouts Day models were displayed
and flown and the camp's tame helicopter
gave a demostration of rescue from the sea.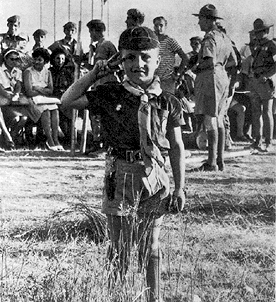 One day the Cubs came, hundrends of them
from packs in the Athens area.