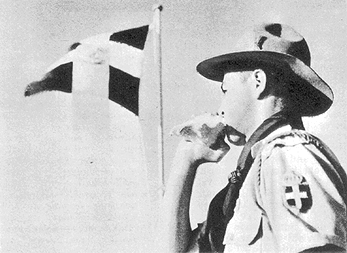 The Greek Flag was already flying over the plain
of Marathon, 3 days before the arrival of the international delagations.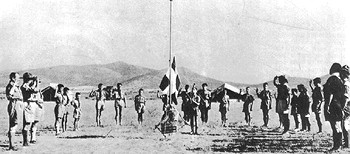 The first Scouts from Greece that had already
settled at Marathon, spread everywhere to help the arriving delegations.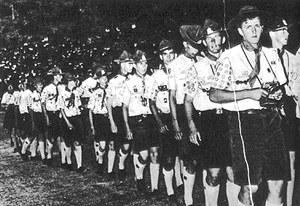 The sun had already set by the time the last
delegations had taken their places on the slope of the hill.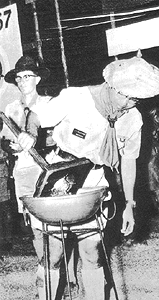 The sound of the Kudu horn breaks the
evening stillness. Kylixes are lit before the emblems of all
previous World Jamborees by representatives of Scouting
from the countries were they were held. Last, J.P. Silvestre
of the Philippines lights the kylix of the 10th World Jamboree
that took place in 1959 at Makiling Park.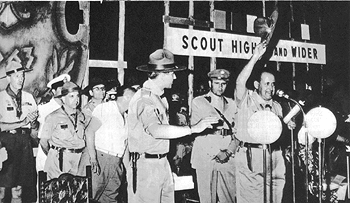 The 1959 Jamboree kylix is passed through to Greek hands
and the Marathon Kylix of Friendship is lit.
Cheers are rattling the air, the Jamboree begins!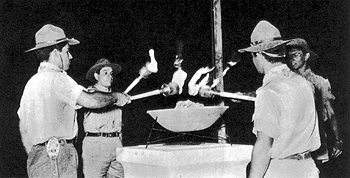 Light form the central Kylix of Friendship
is transfered to the sub-camps.
For the first few days the three flags outside General Headquarters
-the World Scout flag and those of the Soma Hellinon Proskopon and the
Marathon Jamboree- in common with all national flags, flew at half-mast
in memory of the Philippine delegation, so tragically lost in the plane crash
near Bombay. The camp site that the delegation would have occupied, in
sub-camp Aeantis, was kept empty as a mark of honour. But within a few
days of the opening of the Jamboree a token delegation of three Philippine
Scouts flew in and breakfasted on their first morning with the Camp Chief,
Colonel J.S. Wilson and J.P. Silvestre.