In the Jamboree, that was organized in Greece for the first time in the middle of August of 1963 at Skinias near Marathon, Attica, 14,000 Boy Scouts from 85 countries of the world participated. On the occasion of this grand event, more than 30,000 visitors from all over the world and more than 300 foreign journalists and reporters visited our country.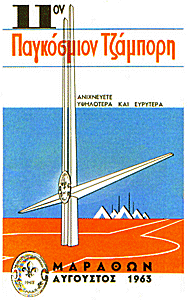 The cover of the advertising leaflet

The Jamboree's campsite took up approximately 5,000 sq. meters of Skinias, at Marathon Bay, about 26 kilometers away from Athens. The camp stretched just beside the 3 kilometer-long, pine-clad sandy coast. This peaceful and picturesque campsite was once a famous battlefield. In the year 490 b.C. a great battle for freedom and high ideals took place. After the end of the battle, an Athenian soldier, Phidippides, run to Athens, still wearing his armor, to announce the victory of his city. As soon as he arrived at the city gates he shouted "═enikikamen!" (We have won!) and fell dead, exhausted from the fatigue. It was in honor of this intrepid courrier that the Marathon Race was instituted at the First Modern Olympic Games at Athens, in 1896, and is carried out in all Olympic Games ever since. In this same site, Scouts of the World gathered in the summer of 1963 for peace and high ideals.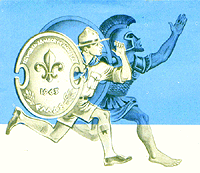 The emblem of the "Marathon Courrier",
the newspaper of the Jamboree
The Jamboree was divided in 11 sub-camps in each of which approximately 1,200 Boy Scouts and their leaders had camped. Each subcamp was bearing the name of one of the tribes of Athenians and Plataieis that had fought in Marathon. Another 5 camps housed the members of the Administrations, the work force and the technical personnel. The Jamboree's facilities included a post-office, telecommunications, water and light supply systems. A total of 20 kilometers of roads were constructed in the camp. There were refreshment stands, a 20,000-seat amphitheater, the "Place des Nations", Exposition sites, restaurants for the Administrative Personnel (Boy Scouts cooked their own food of course) and the Greek Village, a site full of characteristic insular, lowland and highland sights of Greece. At the Greek Village, the Greek activities and the Greek lifestyle were intensively brought forth by means of optic, gastronomic and recreation surprises.