Army's A' Class Merit Medal that was awarded to SEP's Flag
in recognition of the services offered to the country at Asia Minor

Before the end of World War I, the procedure of establisment of Greek Scout Troops started in Smyrna. Commander of those activities was Evangelos Ioannidis, a Scoutleader in Alexandreia and G. Papadimitriou. After the landing of the Greek Army, in summer 1919, Hellenic Scouting started spreading everywhere greek forces streched.
Unfortunately, it was impossible for the Scouts of Asia Minor not to take part in the military operations. Many Boy Scouts of Ionia paid their feeling of duty with their lives.
In June 1919, three Scout Troops existed in Aidinio. Greek Army had just liberated the city and had established a small guard when, on June 15th, unorganized hordes of countless Turks attacked the guard. The Boy Scouts remained in the Army's side and next to the raging people to offer all kinds of services. After the heroic sortie of the small hellenic guard force, the invaders proceeded in savageries and slaughters. The Boy Scouts that weren't killed were lead outside the town. There, Turks demanded from the Scouts and their heroic Leader, Nik. Augeridis, to renounce their faith and nation and, after their denyal to do so, they massacred them in the most violent way. Amidst horrible tortures, Greek Boy Scouts died shouting "Zito i Ellas"! ("Up with Greece"). 301 members of the Aidinio Greek Scout Movement were the heroic victims of that tragedy.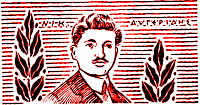 Three years later, in April 1922, another disaster hit the Greek Scouts. Sokia, a small town at Maiandros river, was under the occupation of the Italian Army when it was ordered to hand the territory over to the Greek Armed Forces. The Turkish authorities had already imprisoned a lot of Greeks including the Boy Scouts. When the Hellenic Army approached, the departing Turks took all prisoners with them, despite the repeated reassurances they had gave the Italians. In an attempt to pursue the unorganized decamping Turks, the greek soldiers came across the dead bodies of more than 15 greek children whose only offense was that they were Greek Boy Scouts.
The repeated slaughters of Greek Boy Scouts in Asia Minor triggered the fury and intense complaints of Scout Oragnizations and the Press, worldwide.
The services offered by Greek Boy Scouts after the Asia Minor catastroph were also precious. The thousands of refugees arriving back in Greece were hospitalized in part by Boy Scouts that Press characterized as the guardian-angels of the victims of that national disaster. They offered their services in setting up tents, organizing the mess, cleaning the settlements and hospitalizing the injured, even in the protection of some camps.
For those outstanding services, "King Konstantine" awarded, in 1922, the Flag of SEP with the Army's A' Class Merit Medal.