Boy Scouts offered precious services to the Country during the Balcan Wars. The elder, after receiving special training from army's officers, were used as trainers of the recruits and courriers of the General Army Staff. The younger Scouts served as corpsmen in Athens' hospitals, nurses's aides, storekeepers, even general aides to the injured. The elder were even named corporals, with a right to bear the corresponding insignia on their scout uniform.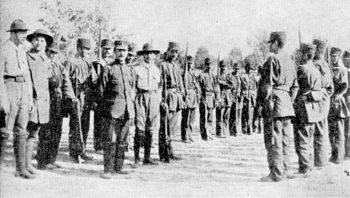 Training of recruits by Boy Scouts, during the Balcan Wars
In acknowledgement of the valuable services offered, the Balcan Wars Medals and the Red Cross Medal were awarded to the Flag of Boy Scouts of Greece. In 1914, "king Konstantine" assumed General Leadership of the corps of Boy Scouts of Greece.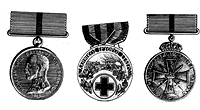 The Balcan Wars Medals and the Red Cross Medal (center)